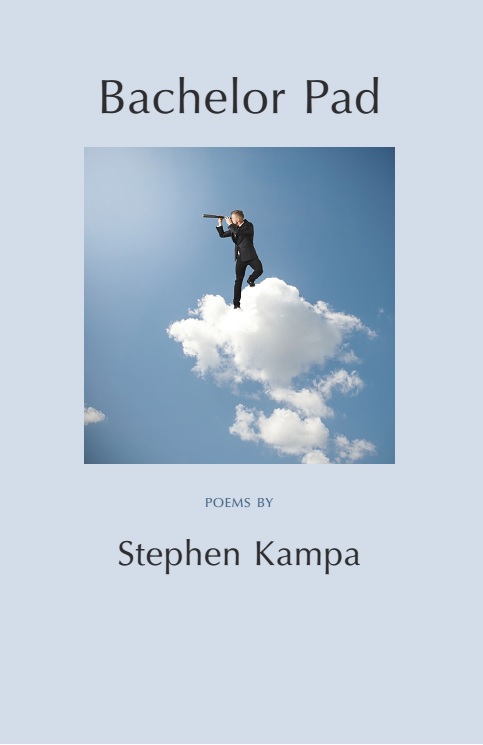 Stephen Kampa's second volume of poems, Bachelor Pad, appeared in the spring of 2014 from The Waywiser Press.
"Rejoice! The young and frighteningly brilliant Stephen Kampa has already given us a stunning second volume of poems. The title Bachelor Pad offers a hint of the author's winning modesty and wit, but hardly prepares us for the depths of his humanity. None of the perfectly-crafted poems here is funnier than 'Homer at Home' or more tragic than 'Lana Turner's Bosom: An Assay,' and along the way are countless other subtly mixed moods. Here is a poet who looks into the existential abyss but sees love everywhere."
—Mary Jo Salter, author of Nothing by Design

---
"Bachelor Pad is a gutsy and brilliant examination of a contemporary man's single life. Love, lust, and loneliness tangle together, strengthening and warring with one another to form a complex and honest picture of desire in action. For the man who is looking for love in all the right places, 'You're yours to damn; / To find your sole reprieve / Takes someone else. That someone is inviting… / Now when the man I hope to be is writing / The man I am.' But Stephen Kampa believes in love and so convincing is he that we too believe there is "A changeless love song hurrying to me, / Ecstatic in the static.'"
—Andrew Hudgins, author of A Clown at Midnight

---
"Stephen Kampa's poetry features a rich variety of stanzaic forms and a wonderful wealth of verbal ingenuity—qualities that recall the work of fellow virtuosos from John Donne to Anthony Hecht. And in his love for and knowledge of music and movies, and in his bittersweet meditations on romantic love, Kampa may remind some readers of Woody Allen. A bounteous and resourceful writer, Kampa can also speak, as he does in such poems as 'Wasted Time' and 'The Pocket Watch,' with energetic concision. Bachelor Pad impresses from cover to cover."
—Timothy Steele, author of Toward the Winter Solstice

---
Check out a review of Bachelor Bad at the Florida Book Review here.
Check out another review of Bachelor Pad in Able Muse here.
Purchase:
To purchase the book from Amazon.com, click here.
To purchase the book from The Waywiser Press, click here.